| Item ID | Starting Bid | Bids | Current Bid |
| --- | --- | --- | --- |
| 55548 | $25.00 | 2 | $30.00 |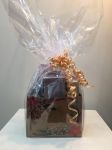 Donated by Stylist Sabrina Trimble
Basket featuring Kevin Murphy products:
- 1 hydrate wash
- 1 hydrate rinse
- 1 Doo Over dry powder finishing spray
- 1 travel hair spray
Find Sabrina at: 73 Richmond St West. Suite 301. 416-668-1668 sabrinatrimble@yahoo.ca
Client testimonial: "Sabrina is the an incredible stylist. I started seeing her about 10 years ago as a colourist and have stayed with her for help with my overall look. She can do anything from edgy to elegant and stays abreast of all of the latest trends. Booking appointments at her private salon makes me feel like a celebrity. I like to go after my workday and bring a little wine to sip while the colour sets. *Ssshhh, Don't tell!*"
*Please note bids should be placed in minimum of $5 increments.*